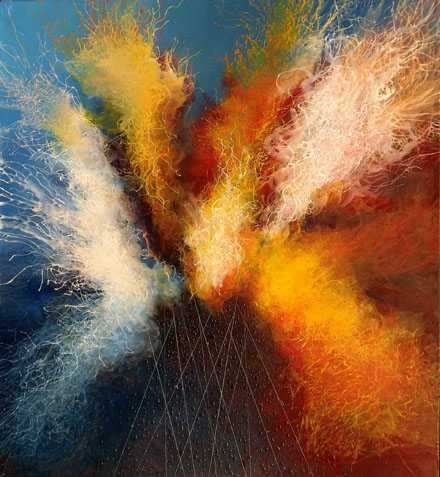 MAURIZIO CAMATTA

Italian artist Maurizio Camatta is an extraordinary presence in the contemporary art world. As an Abstract Expressionist his use of colour appears haphazard, provoking an emotional response in the viewer. These are dust explosions, rockets blazing through the layers of atmosphere, rainy skies and steamed up windows. There are fireworks imploding in the damp fog; stars bursting and dissolving into Northern Lights. The paintings have an oddly meditative quality to them, allowing your mind to drift off over Turner-esque skies to better places, completely absorbed…

After this initial magnetism and beauty, you'll find that there is something 'other' lurking beneath the aesthetic. These crepuscular scenes are the ideal habitats for darker creatures, for bats and insects hovering in clouds, a quiet thrum vibrating just below the surface. In murky twilight, your eyes finally adjust, revealing that not everything is as it first seemed, that there are patterns and faces and shape-shifting forms. Nothing is there by accident- there is a proper order to the chaos. Camatta's artistic process is more precise than it appears, with every shade and overlap engineered to achieve perfect equilibrium. Concerned with his studies of colour theory, logic and balance, this expressive artist is also pure scientist.


The purchase document contains the images of the available artworks with their prices. It is password protected. To obtain the password please contact us.