NATÁLIA GROMICHO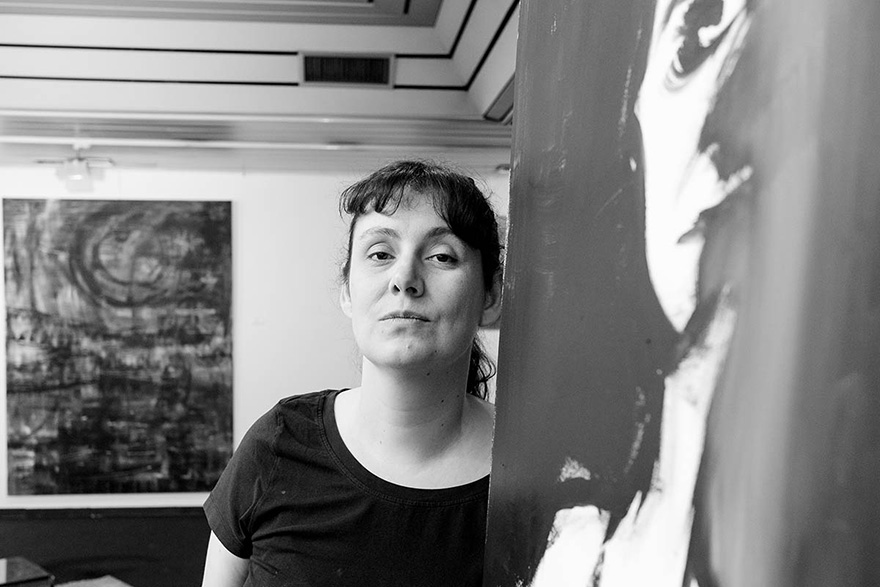 "Wondering If"
Natália Gromicho was born in Lisbon, Portugal
Studied Belas Artes from the Faculdade de Belas Artes de Lisboa, she specialized in painting.
Studying Arts and Crafts, including ceramics, the Portuguese painter, also studied from the private ArCo School of Art in Lisbon, where she undertook Intensive Painting.
Started to paint in 1995, she made more than 100 solo and group exhibitions, Natalia represented her country in international exhibitions such as Italy (in the biggest international Human Rights exhibition), in Brazil (the most important south America Arts and Fashion Exhibition Casa Cor Sao Paulo), in Miami (World Tour Exhibitions Contemporary Artists), the first Portuguese Artist in Adelaide, Australia (Adelaide Fringe Festival), New York (The Power of Perception II represented Portugal), Moscow (Russia invited by the Portuguese Embassy), France (Bordeaux invited to present her work for commemoration of Portugal day at the embassy), London (Hay Hill Gallery solo exhibition and representation), East-Timor (Human Rights solo exhibition and Live Painting performance to Portuguese embassy in Dili and in Fundacao Oriente), Singapore (Artz Space Gallery representation and Lucanna Fine Art & Exquisite Luxuria Auction at Singapore yacht Show), Shanghai (Noeli Art Gallery representation), Macau (Artist Residence and invited artist to the ceremony of the commemoration of Day of Portugal, Camões, and the Portuguese Communities with the opening of a exhibition at Fundacao Oriente de Macau) and Portugal (Fundacao Oriente Museum retrospective exhibition).
Winner of several contests for example "Best Rolling Stone Alternative Logo" for Major Portuguese Radio Comercial in 1999 (win a trip to London and meet Rolling Stones in Bridges to Babylon Tour in Wembley.
Her works are represented in several private and institutional collections all around the world, to refer Portugal, Australia, USA, Brazil, Italy, Russia, France, UK, East-Timor, Singapore, Shanghai, India and Macau.
Curriculum Vitae
EXHIBITIONS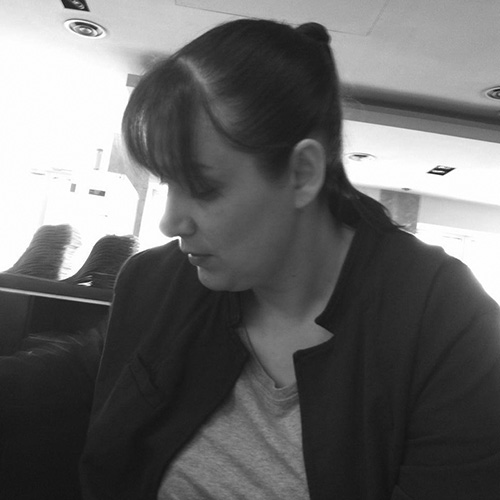 2022
"Carnaval Perfeito" @ ANG Chiado
"Momentos" @ Casa dos Crivos, Braga
"Downtown Chiado 22" @ ANG Chiado
"A viagem de comboio" @ Casa da Cultura de Beja
Janelas @ ANG Chiado

2021
Natal Contemporâneo @ ANG Chiado
180x160 @ ANG Chiado
Abstrato expressionista @ ANG Chiado
Lisboa International Contemp. Exhibition 21 @ ANG Chiado
A poesia encantada @ ANG Chiado
Dias de verão @ ANG Chiado
Calçada Portuguesa @ ANG Chiado
O Jazz ao luar @ ANG Chiado
Azulejos obsoletos @ ANG Chiado
A viagem nipónica @ ANG Chiado
A festa da carne @ ANG Chiado
Downtown Chiado 21 @ ANG Chiado
Lisboa, detalhes a relembrar @ ANG Chiado

2020
twelve @ ANG Chiado
eleven @ ANG Chiado
Picasso´s Day @ ANG Chiado
Lisboa International Contemp. Exhibition 20 @ ANG Chiado
Back to School @ ANG Chiado
Way to see @ ANG Chiado
HOT @ ANG Chiado
My Day @ ANG Chiado
Mother´s Day @ ANG Chiado
Seven @ ANG Chiado
Birth Again @ ANG Chiado
The time has passed @ ANG Chiado
Downtown Chiado 20 @ ANG Chiado
Stay @ ANG Chiado

2019
"Christmas Season" @ ANG Chiado
"Fair Saturday 2019" @ ANG Chiado
"My favorite month" @ ANG Chiado
"Frio" @ ANG Chiado
"Lisbon International Contemporary Exhibition 19" @ Lisboa
"Child days" @ ANG Chiado
"Summer" @ ANG Chiado
"Start´s HOT" @ ANG Chiado
"My month" @ Chiado
"4" @ ANG Chiado
"Tree day" @ ANG Chiado
"Deeply into black" @ Museu cidade de Aveiro
"Lovely Time" @ ANG Chiado
"Downtown Chiado 19" @ ANG Chiado
"Frozen" @ ANG Chiado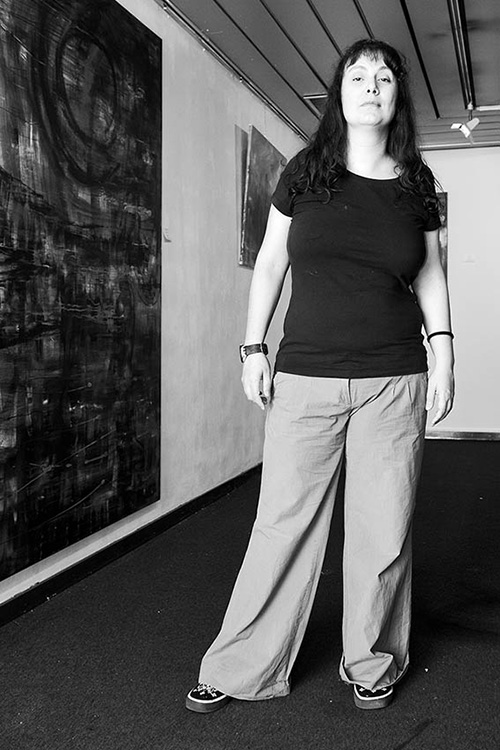 2018
"Lisbon my Town" @ANG Chiado
"Lisbon, Lisbon, Lisbon" @ANG Chiado
"Lisbon International Contemporary Exhibition" 18
"Sleeping" @ANG Chiado
"Wake up Chiado" @ANG Chiado
"Love the Sea" @ANG Chiado
"Wonderful World" @ANG Chiado
"HOT" @ANG Chiado
"Do ocidente para o oriente - Sol Nascente" @ Casa da Artes Porto
"It´s Rainning" @ANG Chiado
"Lisbon´s Spring" @ANG Chiado
"Downtown Chiado 18" @ ANG Chiado
"Chiado in Love" @ANG Chiado
"Another brick" @ ANG Chiado

2017
"See you there" @ ANG Chiado
"Frozen" @ ANG Chiado
"Depois do Oriente" @ Galeria Vieira Portuense
"I Try" @ ANG Chiado
"My favorite month" @ ANG Chiado
"Jornadas Europeias do Patrimonio @ANG Chiado
"Holiday" @ ANG Chiado
"Hot,Hot,Hot" @ ANG Chiado
"Sun is Shinning" @ ANG Chiado
"Human Rights H20" @ Rovereto, Italy
"Be Strong" @ ANG Chiado
"Freedom" @ ANG Chiado
"Spring is in the Air" @ ANG Chiado
"Chiado in Lisbon" @ ANG Chiado
"Downtown Chiado 17 @ ANG Chiado
"Censored" @ ANG Chiado

2016
"Natal(ia)" @ ANG Chiado
"China in Chiado" @ ANG Chiado
"Ineditvs" @ ANG Chiado
"Chiado Seculo XXI" @ ANG Chiado
"Music" @ ANG Chiado
"Do ocidente para o oriente" @ Museu do Oriente, Portugal
"HOT" @ ANG Chiado
"Nova Linguagem Pictorica" @ Casa Garden, Macau
"Music" @ ANG Chiado
"Arte XXI. Nova Linguagem" @ Q. Piedade Palace, Portugal
Untitled @ meetiNG art gallery (Portugal)
Downtown Chiado 16 @ meetiNG art gallery (Portugal)

2015
"In Frame" @ Eurostars das Letras Hotel (Portugal)
"A new view" @ meetiNG art Chiado (Portugal)
"o fácil é complexo" @ meetiNG art Chiado (Portugal)
"Lisbon International Contemporary Exhibition" @Lisbon
"Secrets" @ meetiNG art Chiado (Portugal)
"Painting like a child" @ meetiNG art Chiado (Portugal)
"Atmosferas XXI Century" @ Galeria Rest. (Almada)
"In Blue" making of video @ Hotel do Chiado (Portugal)
"In Blue" Vernissage @ Hotel do Chiado (Portugal)
"In Blue" live painting @ Hotel do Chiado (Portugal)
"Poetry" @ meetiNG art Chiado (Portugal)
"Lucanna Auction" @ Singapore
"Evolution" @ meetiNG art Chiado (Portugal)
"Meet Art Miami 15" @ Nina Torres Fine Art (Miami)
"Human Rights" @ Hotel Timor (East Timor)
"Duelo das Rosas" @ Espaço Montalto (Covilhã)
"Downtown Chiado 15" @ meetiNG art gallery (Portugal)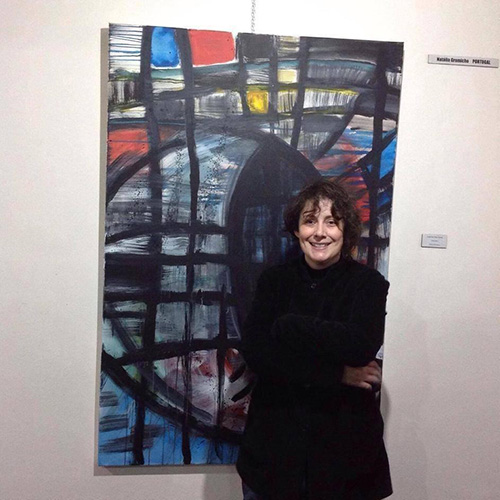 2014
"In Frame" @ meetiNG art Chiado (Portugal)
"Meet Orient" @ Artz Space (Singapore)
"Human Rights" @ Díli (East Timor) - Exhibition
"Human Rights" @ Díli (East Timor) - Live Painting
"Human Rights" @ Díli (East Timor) - Visits
"Humainty" @ New Delhi (India)
Lisbon International Contemporary Exhibition (Lisbon)
Through A Glass Darkly @ Hay Hill Gallery (London)
"Summertime" @ meetiNG art Chiado (Portugal)
"Human Rights 2014# Memento" @ Rovereto,Italy
"The Rainbow Painted" @ meetiNG art Chiado (Portugal)
"Lisboa, Dignos de nota" @ Bordeaux, France
"Lisboa, Dignos de nota" @ Moscow, Russia
"New Back To Old" @ meetiNG art Chiado (Portugal)
"The Power of Perception II" @ Art Space, New York USA"Downtown Chiado 14" - International Exhibition @ Lisbon

2013
"Marcas de Lisboa" @ Wine Spot Premium (Portugal)
"in Honor of Giordano Bruno" @ galleria Gli Eroici, Milano
Lisbon Inter. Contemp. Exhibition 2013 @ Lisbon, Portugal
"Nem tudo o que parece, é" @ Arganil (Portugal)
Human Rights? 2013 #Migrantes @ Rovereto, Italy
"Estudo Pictórico da capital" @ meetiNG art gallery
"Memory Box" @ meetiNG art gallery
"Sortido" @ meetiNG art gallery
"Ambientes" @ Santa Maria Hospital (Portugal)
Human Rights? 2013 @ Specchia, Italy
"LX/XL" @ meetiNG art gallery (Portugal)
"Lisboa 2013, dignos de nota" @ Open Day - LX FACTORY
"Singularidades Humanas" @ meetiNG art gallery
"Lisboa 2013, dignos de nota" @ meetiNG art gallery
"Singularidades Humanas" @ Galeria Municipal Estarreja
"Human Being" @ The Exhibitionist (Australia)

2012
"WTECA Miami 2012" @ Nina Torres Fine Art Gallery
"Human Rights 2012" @ Trento, Italy
"Cinema Stories 4" @ Bibilioteca Rocha Peixoto
"Casa Cor 2012" @ São Paulo, Brazil
"Human Rights 2012" @ Lecce, Italy
"2nd International exhibition" @ Galeria Vieira Portuense
"Exquisite Live act" @ Acercadanoite (Almada)
"Modos de ver Santarém" @ Casa do Brasil (Santarém)
"Modos de ver" @ C.C.Bom Sucesso Gallery (Alverca)
"Modos de ver" @ Rocha Peixoto Gallery (Povoa de Varzim)"Esboços" @CAMAJ (Fogueteiro, Seixal)
"Modos de ver" @ Samora Barros Gallery (Albufeira)
"As minhas Paixões" @ Casa da Guia (Cascais)
"Kizz me @ Espaço Arte Jovem Gallery (Miratejo; Lisbon)
"Caos" @ Trem Gallery (Faro)
"Modos de ver" @ Florbela Espanca Gallery (Vila Viçosa)
"Modos de ver" @ Casa da Cultura de Elvas (Elvas)
"Modos de ver" @ Tinturaria Gallery (Covilhã)

2011
"Live Painting and Workshop" @ Faculdade de Letras de Lisboa (Lisbon)
"Modos de ver" @ Casa da Cultura de Santa Comba Dão (Santa Comba Dão, Viseu)
"Modos de ver" @ Casa da Cultura César Oliveira (Oliveira do Hospital, Coimbra)
"Lisboa" @ Colorida Gallery (Lisbon)
"...por igual" @ Biblioteca Municipal de Lousada (Lousada, Porto)
"Modos de ver" @ Casa da Cultura da Trofa (Trofa, Porto)
"Relações Humanas" @ CAMAJ (Fogueteiro, Seixal)
"Mulher do Século XXI" @ Espaço Arte Jovem Gallery (Miratejo)
"Recortes" @ CCD Tranquilidade (Lisbon)
"Drive in Art 9" @ National Road 10 (Paivas; Lisbon)
"24 hours live Painting" @ CAMAJ inauguration (Seixal, Lisbon)

2010
"Triptico" @ Amoreiras Gallery Shopping Centre (Lisbon)

2009
"13 Luas" @ 13 Moons Space (Almada; Lisbon)
"A Viagem" @ Espaço Arte Jovem Gallery (Miratejo) "Collection" @ Pharmacia Bar (Almada; Lisbon)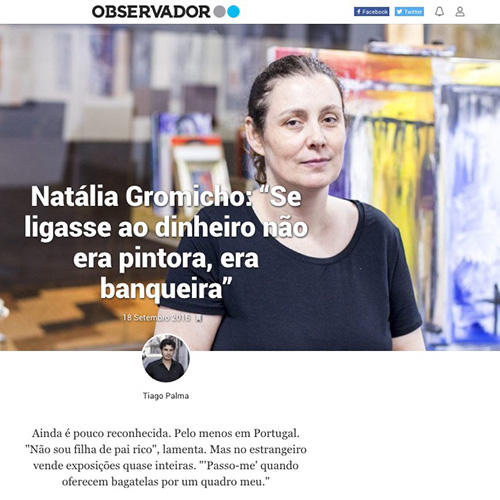 2008
"Espaço Vago" @ Espaço Arte Jovem Gallery (Miratejo; Lisbon)
"Caricatura Animal" @ Sto Amaro Gallery (Laranjeiro; Lisbon)
"1st Edition of Young creatives" @ Municipal Gallery (Montijo)
"Fine Arts Exhibition @ IPL" IPL (Leiria)

2007
"Momento" @ Espaço Arte Jovem Gallery (Miratejo; Lisbon)
"Move your mind" @ Sto Amaro Gallery (Laranjeiro; Lisbon)
"Drive In Art 2007" @ National Road 10 (Paivas; Lisbon)

2006
"Intempéries" @ Sto Amaro Gallery (Laranjeiro)
"Move your Mind" @ Loja da Juventude Gallery (Miratejo; Lisbon)

2005
"Sistema Solar" @ Sto Amaro Gallery (Laranjeiro; Lisbon)

2004
"Caixa de Pandora" @ Ponto de Encontro Gallery (Almada; Lisbon)

2003
"Atmosferas" @ Ponto de Encontro Gallery (Almada; Lisbon)

2002
Exhibition @ Hospital Garcia da Horta Gallery (Almada; Lisbon)
"O Baú" @ St. Amaro Gallery (Laranjeiro; Lisbon)

2001
"Colorifrico" @ Forum Romeu Correia Gallery (Almada; Lisbon)

2000
Solo Exhibition @ Ponto de encontro Gallery (Almada; Lisbon)
Solo Exhibition @ Public Library S. Lazaro Gallery (Lisbon)

1997
"Vêr de fazer" @ Imargem Gallery (Almada; Lisbon)
"Expôr" @ Municipal Shop Gallery (Lisbon)

1996
"Antevisão" @ Culture Gallery (Almada; Lisbon)
"Pintar Almada em Azulejo" @ Solar dos Zagalos Gallery (Caparica; Lisbon)


CONTESTS

2008
"Young creative 2008" (Montijo)
"1st International Biennial of Montijo (IX Premio Vesperia)" (Montijo; Lisbon)
"Young Artists 2008" (Lisbon)

2007
"Drive in Art 2007" (Seixal; Lisbon)
"II Competition Arts IPL" (Leiria)

1999
"Best Rolling Stone Alternative Logo" for Major Portuguese Radio Comercial (won a trip to London and meet Rolling Stones in Bridges to Babylon Tour in Wembley)

1997
1st Place (Costumes and decoration) Important Popular fest (Marchas Populares) @ Almada; Lisbon

1996
1st Place "The Sticker" COMMEMORATIVE STICKER OF 25th APRIL (date of Freedom (the end of Dictator regime)) @ Almada
1st place along with five colleagues in the contest POSTCARDS CHRISTMAS @ Almada

PUBLIC WORKS
Represented in several private and institutional collections, such as Mayor of Laranjeiro and the Municipality of Almada; Lisbon.
Two walls painted as final school course @ Escola São João de Barros ( 200x200cm)