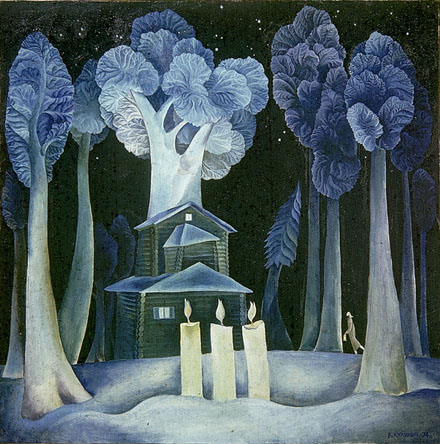 ANATOLY KULINICH

Anatoly Kulinich was born and grew up in the Sumy region in Ukraine in 1949. In 1970, he graduated from the 1905 Moscow College of Fine Arts and went on to become a member of the Union of Young Artists and Art Critics of the Moscow Artists Union. In 1982, he joined the USSR Union of Artists. Kulinich has also received the title of Merited Artist of the Russian Federation.

Kulinich paints simple pictures of human life, the seasons, the nighttime dreams of flying, the milking of cows and birthing of foals. Like signs from the zodiac, figures are symbolic: a golden goddess floats over our heads, trailing a silk scarf across a star-studded sky; a peasant woman brandishes her rake. His fables are peopled by hapless heroes, old folks, village idiots and city slickers, all painted with a great deal of compassion. Borrowing from traditional 'Lubok' prints, primitive folk art and icons, the artist's work is layered with meaning, lyrically rendered yet socially relevant. The tales get taller, distorted by allegory. The scenes are enlarging, shrinking, mutating- and never quite what they seem.

Kulinich's works can be found in the State Tretyakov Gallery in Moscow, Russia; the Pushkin Fine Arts Museum in Moscow, Russia; the Museum of Folk Graphics in Moscow, Russia; the State Historical Museum in Moscow, Russia; in other museums in Russia and Ukraine and in private collections in Italy, France, Germany, USA, Great Britain, Canada, Finland, Netherlands, Venezuela, Columbia, India, Greece, Turkey, Poland, Portugal, Belgium, Bulgaria and other countries.