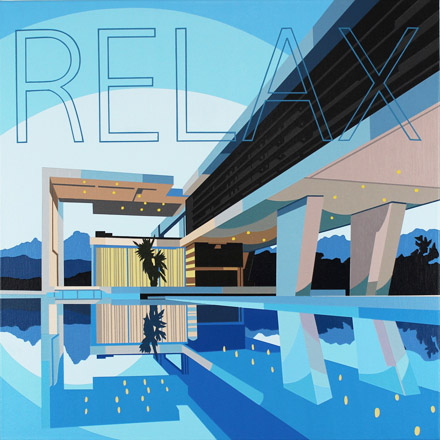 WILL MARTYR

Will Martyr is a London based artist who graduated from Slade School of Fine Art (BA) in 2002, and the Royal College of Art (MA) in 2007. Having studied in New York and London, 'The City' and its environment has always played a central role within Martyr's work. This focus resulted in an invitation from the Architectural Association to take part in a unique pan-European inter-professional project on the Bauhaus in 2010. This group of professional Artists, Historians, Architects and Designers worked on a series of built projects at the Bauhaus, Dessau and Walter Gropius' Theatrehaus Jena in conjunction with the Crash, Boom, Bau festival.

Will Martyr's paintings are emphatic; they are direct, immediate, familiar and seductive. His work often imaginatively places objects out of context in sensual juicy-fruit colour-scapes. Like memories of a holiday, they are branded with postcard slogans. Using acrylics and the occasional touch of diamond dust, futuristic casinos rise up in pleasing geometries. Combining found images and remembered locations, Martyr creates an exaggerated sense of de-ja-vu with his scenarios. Emptied of people, the vignettes allow the eye to peacefully explore the uninterrupted spaces. Using text and layouts inspired by post-war Americana/Pop Art, Modernism, Italian Futurist and Russian 1930's Posters, the works become advertisements for a more contented life

Over the past decade Martyr's work has been exhibited and placed in a number of major private and corporate collections that include 'The Prudential', 'ABN AMRO', Aon Consulting, Equity Group and Sheikh Al Qasimi of Sharjah. Martyr has also exhibited internationally in New York, London and Delhi galleries.