9-15 Sackville Street
London W1S 3DT
http://www.albionstone.com/portland-stone-projects/9-15-sackville-street
9-15 Sackville Street
In January 2008, planning consent was gained for the demolition and redevelopment of this prominent site on the eastern side of Sackville Street. Given the location within the Mayfair Conservation Area and proximity to listed buildings, careful consideration had to be given to the design of the new building.
The new £14 million building comprises approximately 40,000 sq ft of office, two - 2 bedroom flats and one-3 bedroom flat. Sackville Street contains many well preserved, Listed Georgian buildings and the design of the new building uses the same traditional materials of brick, Portland Stone and lead, to reflect their proportions and rhythm in a contemporary manner.
The wide frontage has been subdivided into five bays to reinforce the vertical rhythm of the streetscape and a prominent cornice line introduced below the mansard roof storeys to reduce the perceived mass of the additional height.
Albion Stone supplied 60m ³ of Portland Jordans Basebed for this development.

http://15sackvillestreet.co.uk
15 Sackville Street is a new development in Mayfair that provides approximately 34,000 sq ft of high quality modern office accommodation and three luxury apartments.
Situated on an exclusive Mayfair street, 15 Sackville Street's impressive exterior matches the impact of its interior. Bespoke glass and metal artwork by Rebecca Salter create an elegant façade and distinctive main entrance unique to the street.
The reception area uses natural materials of exceptional quality, consistent with the commitment to deliver elegance and durability. Stone and walnut accented with bronze create a welcoming environment, while two 13-person elevators provide swift access to seven floors of office accommodation.
15 Sackville Street is designed on a modular basis to offer maximum flexibility. Every floor is column-free and designed to accommodate the spatial needs of any business. Quality of materials is paramount; separate male and female facilities at each level are partitioned by glass and walnut, and finished with superior ceramic tiling and Italian basalt vanity tops.
15 Sackville Street is a location that suits all tastes; a neighbourhood rich in culture, cuisine and community.
Michelin Star fine dining, exclusive hotspots and fashionable hangouts are all just moments away, while world famous museums and galleries offer a profusion of world-class art for anyone in search of culture.
For those whose preferred lunchtime is more in tune with peace and quiet, then a soft leather armchair and newspaper can be found at one of the districts exclusive clubs, or experienced by strolling through one of the areas many beautiful parks and gardens.
15 Sackville Street is a traditional Mayfair location. The property benefits from the amenities of St James's; The Royal Academy and The Ritz are nearby as are world renowned brands such as Ralph Lauren, Cartier, Asprey's and Fortnum & Mason.
15 FACTS ABOUT SACKVILLE STREET
Its name originates from Captain Edward Sackville, 4th Earl of Dorset

Edward Sackville lived for only three years in the street

Famous Physician Dr John Snow occupied 18 Sackville Street from 1853-1858

It's the longest street in Mayfair without any side turnings

The street originally did not have lampposts, just lights from sides of buildings

No.29 Sackville Street has a ceiling still on the first floor by architect, and interior and furniture designer Robert Adam

Sackville Street is mentioned in Jane Austen's novel 'Sense & Sensibility', chapter 33*

It is quoted in Anthony Powell's book 'The Military Philosophers'
Notable English architect Robert Richardson Banks had a partnership based in Sackville Street

It's a famous tailoring street

Royal appointed tailors 'Meyer & Mortimer' have their HQ at No. 6

It's home to Sotheran's, the longest established antiquarian booksellers in the world

Winston Churchill's famous Siren suits were fitted in Austin Reed's flagship store, which backs onto Sackville Street

No. 35 is home to 300 year-old fashion house, Dormeuil, famous for developing the first-ever sports fabric in 1923

Tom Gilbey, famous designer to the stars, including the Beatles, rocked the world when he opened his couture and fashion house in Sackville Street
*We found this copy of 'Sense & Sensibility' in Sotheran's antiquarian book shop, 2-5 Sackville Street.
More about the history of Sackville Street visit http://www.british-history.ac.uk/survey-london/vols31-2/pt2/pp342-366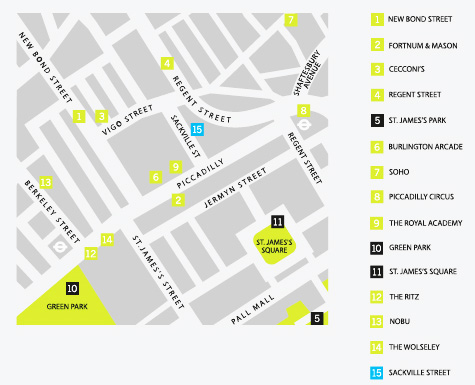 7th June - 7th December 2015
In co-operation with ARTful Ltd.
Featured Artist: Ilia Petrovic
Ilia Petrovic developed a fascination for colours and textures inspired by cosmology and microcosm, nature, cinematic special effects but mostly inspired by music and lyrics.
Ilia Petrovic 'Chasing Satellites (Triptych)', mixed media on cotton canvas, 113 x 210 cm
Ilia Petrovic 'Swimming With Sharks (Quadriptych)', mixed media on cotton canvas, 113 x 280 cm