http://www.viewlondon.co.uk/whatson/art-london-feature-event-4211.html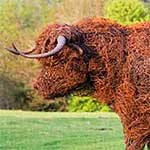 Art London is a unique London art event collecting an eclectic range of pieces from an exclusive range of artists. Taking place in the picturesque setting of Royal Hospital Chelsea, the event promises to be a vibrant affair packed with plenty for art fans to enjoy.
A history of Art London
Returning for its 13th year in 2011, the event has firmly established itself as a premier arts occasion, presenting a varied line up of pieces in a relaxed, welcoming atmosphere. The venue for this year's event is once again the Royal Hospital Chelsea, providing a suitably elegant backdrop for the show.
Eclectic art
Variety is definitely par for the course with an eclectic range of pieces on display. Stands will feature a varied mix of paintings, sketches, photographs and sculptures, presenting a wide range of styles from leading artists.
London galleries, united
Over 80 exhibitors will be on show at Art London alongside many of Britain's foremost contemporary painters, combining forces in one of the biggest art events in the capital. Tickets are in demand for the opportunity to browse exclusive art in sophisticated surroundings at an eminent art event.
Unlimited artists
With literally hundreds of artists exhibiting at the show there are more than a few highlights to keep an eye out for. Special highlights for the 2011 show include works by various hot new British artists, as well as art from debut exhibitors from America, Australia, Spain, France, Argentina and Vietnam. Visitors can also browse through the contemporary works on show in the Sculpture Garden.
Sculpture Garden
Another highlight of this year's Art London event is the special Sculpture Garden in the grounds of the Royal Hospital Chelsea. The garden is dedicated to various monumental pieces from artists such as Pablo Achugarry, Rupwert Till and Rick Kirkby. Art lovers can see these works together for the first time in London courtesy of some of the best contemporary sculpture galleries in the world.
Art London takes place at Royal Hospital Chelsea from Thursday 6th October – Monday 10th October 2011. The fair opens daily at 11am and closes at 8pm on Friday and Saturday, and 8.30pm on Thursday, Sunday and Monday.
Tickets on the door are £12.00 for individuals or £18.00 for two, both including a fully illustrated catalogue.
From the Web site of Art London, 2001 about the Sculpture Garden exhibition, www.artlondon.net/sculptureGarden.php: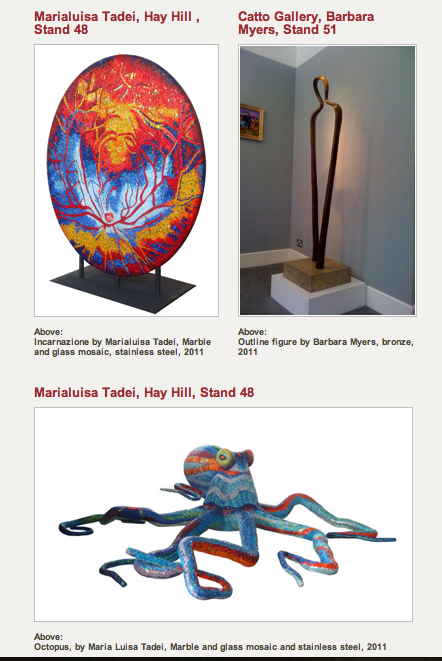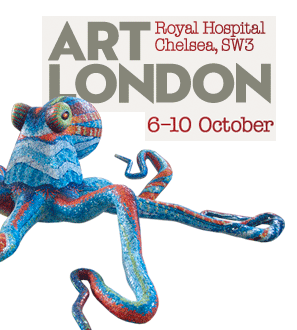 Hay Hill Gallery presented the artists at Art London 2011:
Marialuisa Tadei, Jeffrey Kroll, McAlpine Miller, Fayez Barakat, Jeffrey Robb, Nicolas Ruston, Derek Johnson, Ilia Petrovic, Andy Cheese, Isabelle Rozot, Roxana Halls, Roland Piche