Inga Krymskaya '3045 Variations on The Feast of Venus'
10 - 16 December 2015
3045 Variations on The Feast of Venus is an ongoing project by the Russian born Dutch artist Inga Krymskaya involving the adaptation and reinvention of the Flemish Baroque painting by Peter Paul Rubens' entitled The Feast of Venus.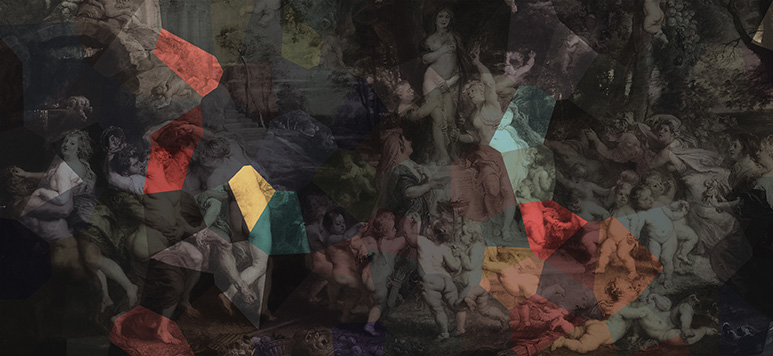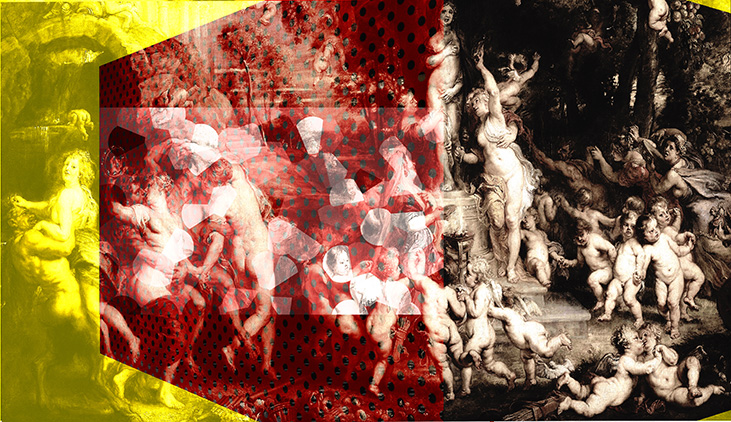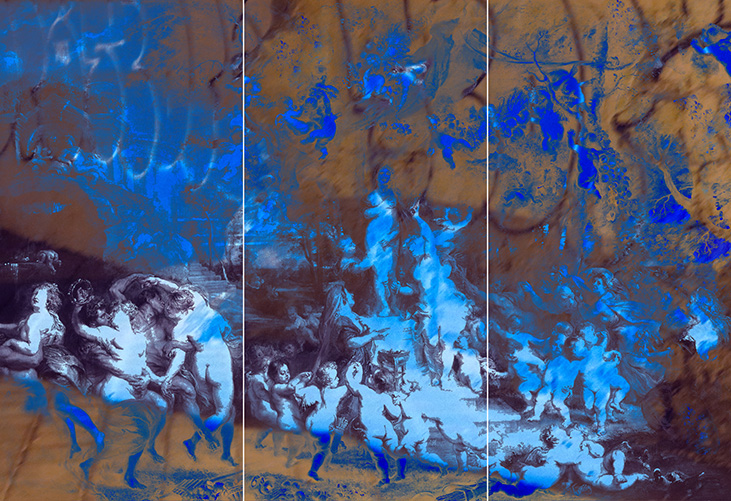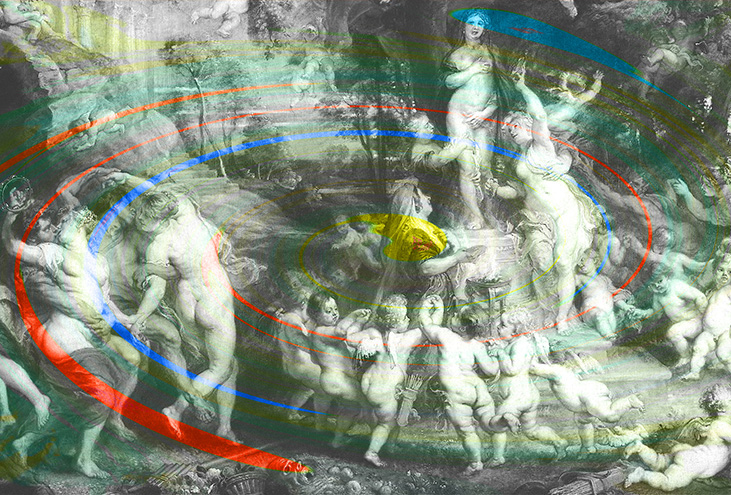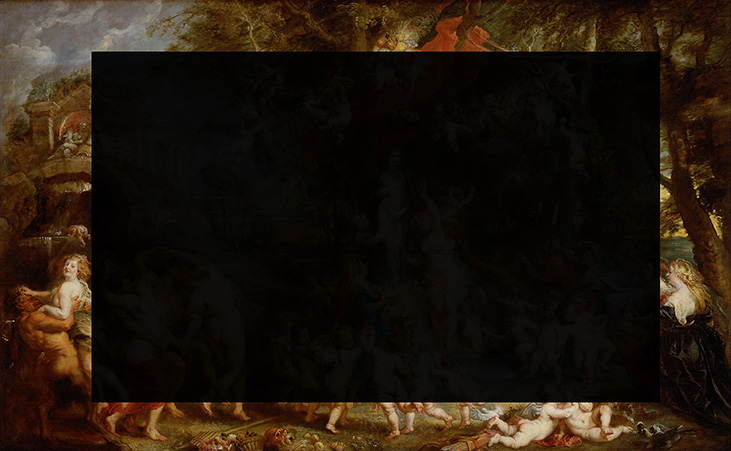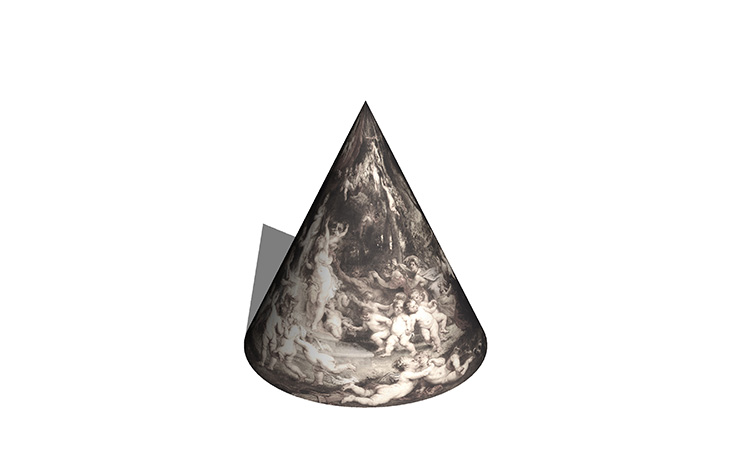 http://www.thereviewshub.com/preview-3045-variations-on-the-feast-of-venus-hay-hill-gallery-london/
PREVIEW: 3045 Variations on The Feast of Venus – Hay Hill Gallery, London

'Sampling' is something we usually associate with music in the modern world and since the 1990s has become an increasingly popular way to reference sections of earlier material that fit with the particular style and beat of a new song. But this form of homage is far from new and was something practiced by artists as long ago as the 17th Century as they honed their skills by copying and reinterpreting the art that came before them. Practicing techniques and reimagining other people's work, far from being plagiaristic, was actually a recognised method of skill development for young artists and this concept was showcased in the V&A's superb Constable: The Making of An Artist exhibition that placed his copies alongside the originals as well as showing how this learning came to influence his independent work.
Inga Krymskaya plays with notions of sampling in a small exhibition of her work based on The Feast of Venus by Rubens that launched at the Hay Hill Gallery on Baker Street today [10 December]. Using just this one painting, Krymskaya has currently created 80 variations, six of which are on public display at the Gallery until 16 December. The evening began, however, with respected art historian Ben Street, who has worked with the National Gallery and the Tate as well as Sotheby's and Christies auction houses, giving a talk on the nature of Rubens work and the themes which Krymskaya's work reflects.
Rubens is most famous in Britain for being Court Painter to Charles I and designing the stunning ceiling of the Banqueting House on Whitehall, the scene of Charles's execution, depicting the ascension of James I (Charles's father) to heaven. But as Street explained, Rubens's skill came from copying and enhancing Old Masters during his 10-year sojourn in Italy and using 'samples' of those paintings in his own work – such as utilising the particular stance of a Christ figure from the Sistine Chapel for his own Prometheus Bound. This kind of sampling can be seen again and again in Krymskaya's work, particularly in a sculpture made of glass shards printed with sections of the painting that manage to retain the beauty of the original but giving it new meaning in fragmented form.
Street explained that The Feast of Venus is part of a body of work created solely from a written description of a lost painting from the Roman period, which Rubens used as the basis for his piece.
Krymskaya's multiple recreations of it, then, build on this notion of the painting being almost a make-believe piece, conjured from rumour and there are some wonderful fantasy elements to her work, which respect the original painting but add a new layer of unreal beauty to it. Variation #5 is a Triptych printed on acrylic glass that douses the top half and bottom corner of the painting in a bronze and electric blue finish. While this also references Warhol's Marilyn's to an extent, Krymskaya retains the antique look of the picture making it simultaneously classic and contemporary but adds even more drama to Rubens festive scene.
Another version is influenced by the meaning of the painting which, as Street demonstrated, depicts a group of beautiful young women apparently renouncing narcissistic symbols including clothes and mirrors. Krymskaya uses this idea of mirrors to form a series of silk printed sections of the painting layered together to create the qualities of an aged mirror, almost like etchings. More contemporary is an embroidered version, that even at close range is impressively finished, overlaid with text-speak sound bubbles for the women that have a strong Pop Art connotation while still retaining the feel of the original.
Krymskaya's work is a beautifully judged tribute to a rich and engaging painting. Her use of material and innovative approach to its interpretation is well worth heading to the Hay Hill Gallery to see in its short public display. The next stage is for other artists to start contributing new versions of this work to what will become a much larger project, and as the originator of this fascinating concept, Krymskaya will soon command a significant exhibition of her own.
Runs Until: 16 December, 2015
invitation (pdf) leaflet (pdf) press release (pdf) call to artists (pdf)