https://www.starsofthealbion.org.uk/
DEAR FRIENDS,
It is our pleasure to announce the 8th edition of "Stars of the Albion. Grand Prix 2021" international performing arts festival & competition. This unique multicultural project joins musicians, dancers and artists from across the world and provides valuable opportunities for young emerging artists to showcase their talent as well as to enhance technical and performance skills, to establish and develop their career. It is organised by Musica Nova Productions Agency & Academy under the Patronage of the World Association of Performing Arts (WAPA) and is promoted by Stars of the Albion Ltd Foundation.
This year the programme includes the competition, an Opening concert on Sunday the 3rd of October by our Judges, a virtual tour of London and an online Awards Ceremony and a Gala concert of winners of the competition on Sunday 10th October.
We expect participants from over 25 countries to attend our online event, including the UK, France, Germany, Italy, USA, Israel, China, Greece, Portugal, Argentina, Malta, Philippines, Algeria, Bulgaria, Poland, Ukraine, Georgia, Russia, Latvia, Republic of Belarus, Estonia, Armenia, Azerbaijan and Moldova, Macedonia. Our event has attracted young generation of emerging talented artists as well as so many established professional performers from across the world.
Participation in this contest is open to artists from 6 years old with no age limit and is divided between age categories, with two options of participation in the capacity of either as amateur or professional performers. All styles and genres can be presented for the competition programme. There are no repertoire restrictions. It is expected that each participant will perform two contrasting compositions. It is expected that each participant will perform two contrasting compositions.
There are two rounds: the 2nd round (Grand Prix Final 2021) will be judged by world celebrity artists, distinguished musicians, professional art collectors, gallery owners and painters.
Legendary Marina Andrusenko (Russia) is the Head of Singing jury. She is a chief editor of famous TV talent shows (Voice, Voice Kids etc) on major TV channel in Russia.
Konstantin Lapshin (UK) is the Head of Instrumental Performance jury. Konstantin is a famous pianist, professor of the Royal College of Music, Doctor of Music.
Our Composition nomination will be judged by famous Italian composer, arranger, producer Leonardo Di Lorenzo and celebrity musician and producer Mr. Ron Tom (UK).
A great team of international professional artists chaired by Ms Jurita AGSA, a Chief Executive at Lady Ju Gallery, UK will judge Visual Arts nomination.
Dance and Circus show will be chaired by the famous Ukrainian producer, dancer, festival organiser Sandra Lisovskaya.
All participants will receive Diplomas, trophies, awards as well as a feedback from our distinguished judges.
COMPETITION SCHEDULE
1st Round (online): 1 October 2021
2nd Round (online & offline): 2 - 5 October 2021
SATURDAY, 2 OCTOBER 2021 @ 5PM UK TIME
- Online Zoom meeting. Q & A.
Opening Night of "Stars of the Albion. Grand Prix 2021". Featuring online concert premier of Stars of the Albion Judges.
2 - 5 OCTOBER 2021
- Online Competitions. All nominations.
- Online Master classes – Artist management and UK music industry. UK music diplomas online. Introduction to Music education and educational programmes.
SUNDAY, 10 OCTOBER 2021 @ 5PM UK TIME
- Virtual tour: London and Royal Windsor.
- Awards Ceremony & Online Gala Concert of winners and laureates with participation of judges.
DISCIPLINES:

MUSIC
Singing (classical, contemporary, musical theatre). Soloists and ensembles up to 12 people and choirs. Instrumental playing (classical, folk, jazz). Soloists, ensembles up to 12 people. Composition (solo & group).
DANCE
Ballet, modern, folk. Soloists, ensembles up to 12 people and groups.
VISUAL ARTS
Performance in Fine Art, photography, short documentary films.
CIRCUS SHOW
Acrobatics, gymnastics, equilibristic, juggling, clowns, illusion.
Age category: Children from 6 y.o. & adults, no age limit
Jury

Visual Arts
| | | | | |
| --- | --- | --- | --- | --- |
| Jurita AGSA (CHAIR) | Charie Vega | Sergey Minin | Natalia Jezova | Mikhail Zaitsev |
Jurita AGSA (CHAIR) - United Kingdom. Artist, Art collector, founder of the Lady Ju Gallery in London and BadBoyLove International animals Award.
Her experience working in galleries includes liaising with artists, sales, social media promotion and organising exhibitions. Has been awarded prestigious art prizes. In April 2020 her oil painting "My dog Bad Boy Tyler" was selected as a present to Queen Elizabeth II for which Jurita received an award.
Charie Vega - Philippines. International producer & director. Seasoned Talent Manager and Concert Producer in the Philippines, Euro Talent Festival- Asia International Director, and Producer of Vega Talent Festival.
Sergey Minin - Estonia/Russia. Artist, restorer, icon painter. Member of the Union of artists of Estonia, of the Association of Russian artists of Estonia, of the arts Council of the Russian cultural centre in Estonia. Consultant to the restoration workshops of the Russian Museum of Estonia. Exhibition activities since 1973, over 18729 group and solo exhibitions. Participant of many art exhibitions in Russia, Estonia, Germany, Finland, Latvia, France, Zambia, Zimbabwe, USA, etc, organiser of the "Africa through the eyes of Russian artists" in Moscow. The winner of the award of Igor Severyanin in 2006 and of the equestrian exhibition "EQUIROS".
Natalia Jezova - United Kingdom. Artist. Natalia Jezova is a Russian-born artist who lives in London. She achieved her Professional Doctorate in Fine Art at the University of East London in 2021. Natalia communicates through a wide variety of media, including film, photography and installation. Her art, which has been exhibited internationally, addresses cultural memory, identity and gender issues.
Mikhail Zaitsev - United Kingdom. Ph.D., Managing Director of the Hay Hill Gallery established in the UK in 2002. Modern and contemporary art.
Videos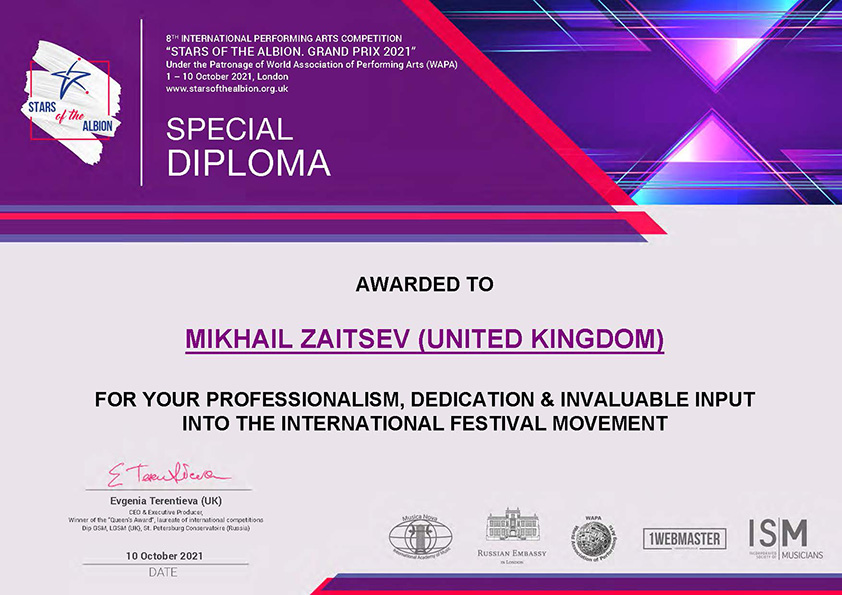 Organiser:
"MUSICA NOVA"
INTERNATIONAL MUSIC ACADEMY
www.musicanova.org.uk
4th Floor, Silverstream House, 45 Fitzroy Street, Fitzrovia, London W1T 6EB
Tel: +44 (0) 7765 845489 | +44 (0)7832341745
Official competition website: www.starsofthealbion.org.uk
E-mail: starsofthealbion@gmail.com
CEO: Ms. Evgenia Terentieva-Jakubowski
President of the World Association of Performing Arts United Kingdom Section (WAPA)
Winner of a "Queen's Award" from the British Council
Laureate of international piano, singing, composition competitions
Laureate of the Gold Franz Kafka Medal (Czech Republic)
Concert musician: singer, pianist, composer, educator
Dip Dist St. Petersburg Conservatoire (Russia), DipGSMD, HonLGSM (UK)