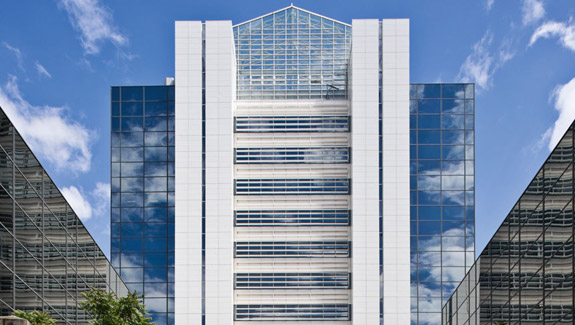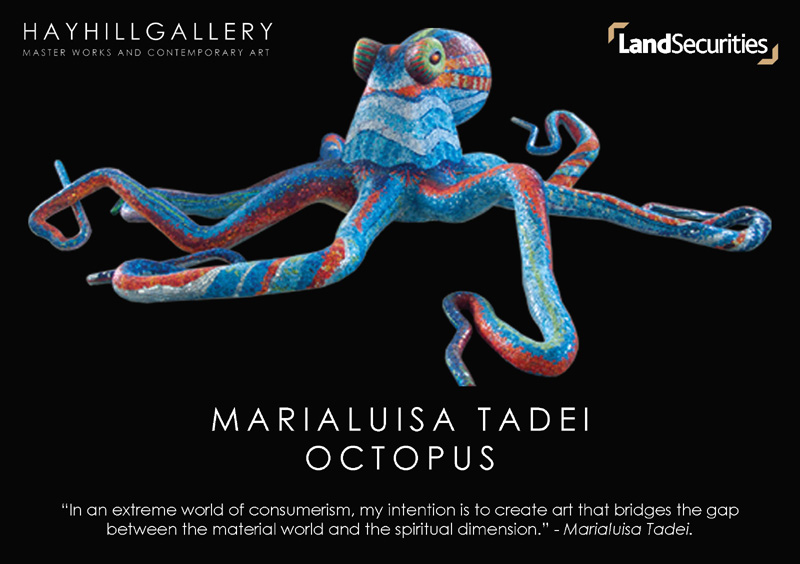 http://www.fadwebsite.com/2012/01/03/spreading-the-tentacles-of-public-art-octopus-by-marialuisa-tadei-comes-to-thomas-more-square-2/
Spreading the tentacles of public art: Octopus by Marialuisa Tadei comes to Thomas More Square
January 3, 2012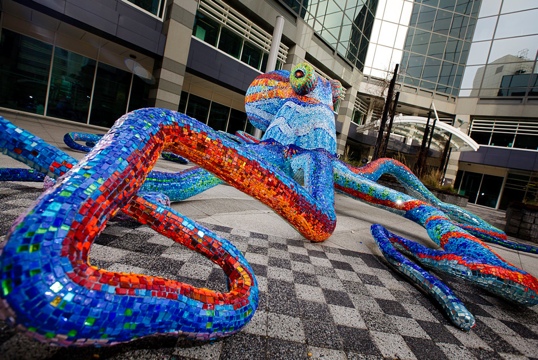 Marialuisa Tadei, is now exhibiting her landmark installation Octopus at Thomas More Square, St Katherine's Dock.
The work seeks to bridge the gap between the material and spiritual worlds in response to the extreme consumerism of the modern world. The installation is created entirely of hand-cut coloured-glass tiles, laid as a mosaic over a concrete and steel frame.
Octopus is the first of two installations by Maria Luisa Tadei on the Land securities site on public display in London. The scheme is the product of a unique partnership between Land Securities and Hay Hill Gallery, of Cork St.
Andrew Sell, Asset Manager Director at Land Securities, commented: "We are delighted to welcome Octopus to Thomas More Square – Marialuisa Tadei is one of the most exciting young sculptors now working on the world stage and it is a great coup to have such a significant installation on show at Thomas More Square. Public art is a key element that helps elevate the space around us into a place with a real identity of its own. Land Securities has long been committed to introducing public art at our properties – most notably in the case of Gavin Turk's landmark creation Nail at One New Change – and we are very excited to be working with the Hay Hill Gallery on a programme of new exhibitions and installations at our developments across London."
http://www.artlyst.com/events/giant-octopus-situated-by-st-katherines-dock-6-thomas-more-square
Giant 'Octopus' Situated by St. Katherine's Dock - 6 Thomas More Square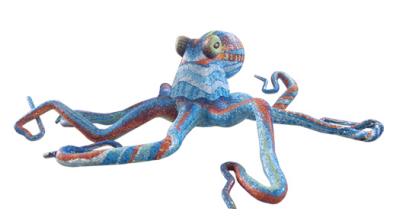 If you find yourself wondering along the Thames around St Katherine's Dock and stumble across a large sea monster, you are not dreaming! Hay Hill Gallery has the pleasure to present 6 Thomas Moore Square, situated by St Katherine's Dock, with an exquisite mosaic sculpture by international artist Marialuisa Tadei. The octopus is the first instalment of art works to be placed on one of Land Securities prestigious London estates.
'Octopus', featured in Art London this year, has received high recognition by Art critics. Created in 2011, the Octopus spans over 5 metres by 5 metres and reaches 156 cm in height. It is made entirely of hand-cut mosaic glass on a concrete and stainless steel frame, as is Tadei's signature style.
Marialuisa Tadei has an impressive career and is fast becoming a heavy weight in the art world, having already participated in the Venice Biennale this year and in also in 2009. Tadei has also exhibited along side artists such as Anish Kapoor, Antony Gormley and Marc Quinn to name a few.
http://sweet-station.com/blog/2012/08/octopus-by-marialuisa-tadei/
Aug 29, 2012
Octopus by Marialuisa Tadei
Posted by Honey