Charity Event
Exhibition 'Win, Lose, Draw'
23 - 25 November 2015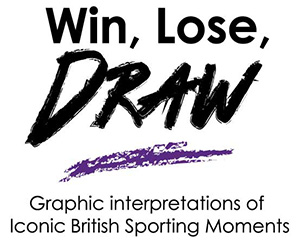 Exhibition 'Win Lose Draw'.
Art and sport often go hand in hand. The truly great sporting moments are performed by those who transform their sport into an art form. Be it Ian Botham stroking the ball for four, Thierry Henry drawing out the goalkeeper or A P McCoy achieving his 4,000th winner there is something intrinsic about sport that really captures the imagination.

Win, Lose, Draw is an exhibition of iconic sporting moments created by leading UK graphic artists. Each artwork has been signed by the artist and featured sportsman and is completely unique. Original artworks and limited edition prints will be available for to purchase from 24 November.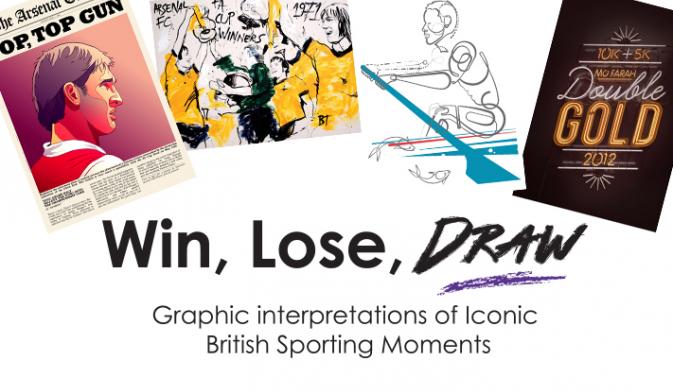 List of Artworks
1. Sir Geoff Hurst – England 1966 World Cup victory (Hurst's hat-trick)
2. Michael Owen – England 2001 World Cup match against Germany (Owen's hat-trick)
3. Sir Alex Ferguson – Manchester United win 1999 European Cup
4. Thierry Henry – 2003-4 Arsenal unbeaten run of 49 games, The Invincibles
5. Tony Adams – Tony's iconic goal for Arsenal against Everton with arms outspread
6. Ossie Ardiles & Ricky Villa – 1981 Tottenham win FA Cup Final vs Manchester City
7. Freddie Flintoff – England win the Ashes 2005
8. Steve Redgrave – Millennium Olympics in Sydney, fifth consecutive gold medal
9. Sir Bradley Wiggins – Cycling's Hour Record broken in 2015 at Lee Valley Velopark
10. Martin Johnson – England win 2003 Rugby World Cup
11. Ian Botham – England's 1981 Ashes triumph
12. Gareth Edwards – 1973 "That Try" AKA The Greatest Try Ever Scored
13. AP McCoy – In 2013 reached a milestone record of 4,000 winning rides
14. Bob Wilson, Frank McLintock & Charlie George – Arsenal win 1971 FA Cup Final
15. Mo Farah – 10K and 5K double gold in 2012 Olympic Games
16. David Seaman – Iconic save for Arsenal in 2003 FA Cup match vs Sheffield Utd
brochure (pdf) invitation (pdf)